North Fork Valley of Colorful Colorado
---
Food Preservation Center Plan



Farmer Matthew Kottenstette (left) and chef Megan MacMillan (right) are researching options for a Delta County Community Center. Read Kathy Browning's in-depth article for details.
http://www.deltacountyindependent.com/index.php/top-stories-1/9711-duo-hopes-to-create-center-for-food-preservation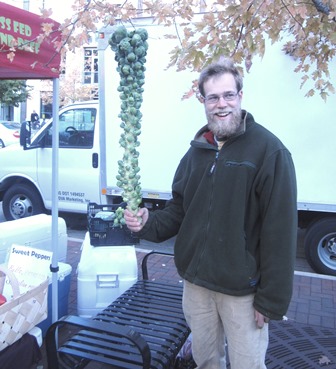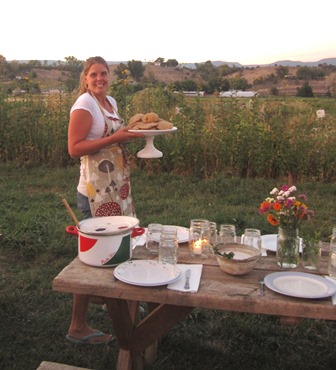 ---
Seed Saving Project at Hotchkiss Library



The Grand Opening of the North Fork Valley Seed Library was January 15.

Contact Kit Stephenson, 399-7879, at the Hotchkiss Library,
for details on how you can contribute and benefit.
---
A Few North Fork Valley Holiday Happenings!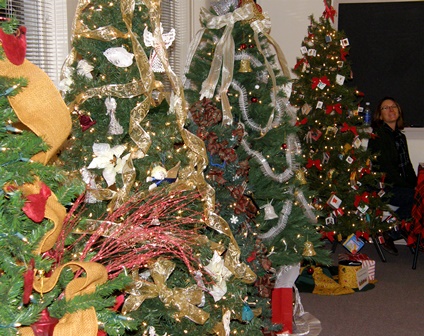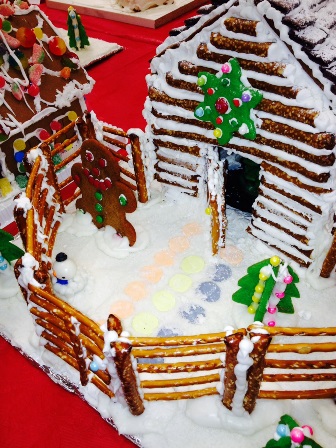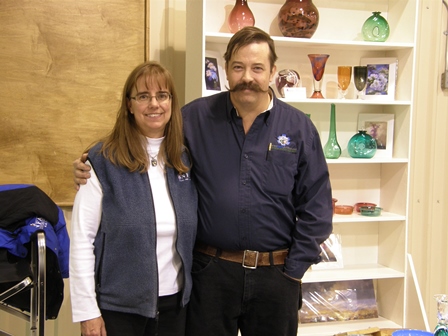 Left:


Crawford --

1st Annual Festival of Trees

was November 29th – December 7th

. Spectacular! Proceeds benefit Crawford Town Hall Restoration.
Crawford Area Chamber of Commerce Board member, Connie Layton, with a few of the trees. http://www.crawfordcountry.org/

Middle:


Paonia -- Blue Sage Center Gingerbread Houses.

All the entries on display through January 10th in Grand Ave. businesses: First State Bank of Colorado, North Fork Bank, Homestead Market, Flying Fork Café, KVNF, Dependable Lumber, and Heart of the Dragon. A map walking tour of the Gingerbread houses is available. www.bluesage.org

Right:


Hotchkiss -- North Fork Valley Marketplace was December 14, at Heritage Hall.

Fundraiser for North Fork Ambulance Association. Over 30 local booths with an emphasis on hand made, home grown and local, including Rick & Kathy Steckel, NFAA director, in their both at the Marketplace.

EMTs and Drivers answered questions about applying for the upcoming EMT class, volunteering and Membership. http://www.northforkambulance.com/
---
DCED North Fork Valley Roundtable/Quarterly Meeting, Thursday, November 21.
Memorial Hall, Hotchkiss.
Key people in the North Fork Valley met the Delta County Economic Development team to learn about programs that may be of particular interest to North Fork residents, and to build bridges between DCED and the NFV to advance important programs. Topics included: Introduction to Delta County Economic Development, Economic Challenges in the North Fork Valley, Soil Health Program, Rural Track Health Care Program and improving the availability of health care in the NFV, Broadband Improvement Program.
Photo at right: current DCED board member Ed Marston presented an overview of economic statistics since 1970.
For comprehensive report on the meeting, page 3 of December North Fork Merchant Herald, or http://www.merchantherald.com/
---
North Fork Valley of Colorful Colorado
Those of us fortunate enough to live in the North Fork Valley welcome you to take in the experience of this place we call home.

But what exactly is The North Fork Valley?

A very simple definition would reveal that the valley includes the towns of eastern Delta County:

Paonia, Hotchkiss and Crawford – and the surrounding mesas.
The North Fork Valley is named in recognition of the importance of the North Fork of the Gunnison River, which runs northeast to west through this high valley –--

from the mountains northeast of Paonia, through Hotchkiss and the 'dobie' deserts until it meets the main body of the larger Gunnison River, between Hotchkiss and Delta.

The north fork of this mighty river is the quiet cousin of the main branch, which carved out over 2,000' of solid rock to create the stunning Black Canyon southwest of Crawford.

Once the two branches of the Gunnison River merge, it winds through the canyon lands of west central Colorado, joining the Colorado River west of Grand Junction.
But that's only the geography lesson… one that tells you nothing more than could be learned from a map or on a flight far overhead.
The real story is to be experienced in person----
Click here to read more.
Click on this
'road map'
for a PDF of the North Fork Valley. Please be patient while it loads---it is worth the wait.
Enjoy yourself in our website (a joint effort of the Paonia, Hotchkiss, and Crawford Chambers of Commerce), and, when you are here.
---