North Fork Valley of Colorful Colorado
Electronic Recycling Event for the North Fork Valley
Saturday April 27. Fairgrounds in Hotchkiss
The electronics recycling event ---- sponsored by Hotchkiss Community Chamber of Commerce, First State Bank of Colorado Hotchkiss, the Western Slope Conservation Center, TDS Telecom, and E-Waste Recycling of Grand Junction ----- was a resounding success.
Three semi-truck loads of dead & outdated electronic devices were collected for disposal in an environmentally friendly manner.
The event was a fundraiser for the Chamber, with a portion of the acceptance fees retained by the Chamber in its Special Projects Fund, and currently designated for the Planters and Flowers Project in downtown Hotchkiss.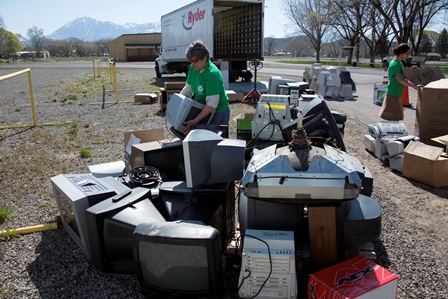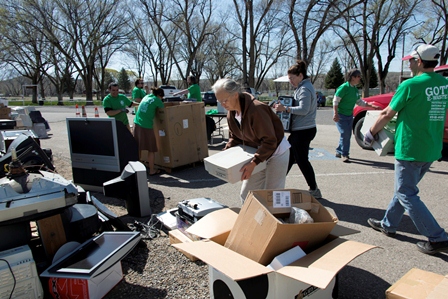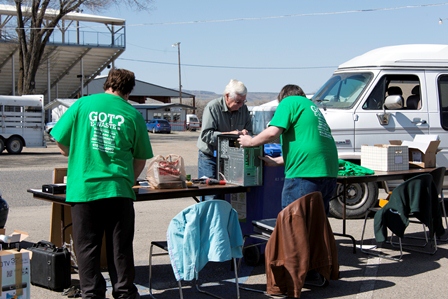 Thank you everyone!
---
"Your Website is The Mother Ship"
North Fork Valley Joint Chambers' Business Symposium
Saturday, May 11, 2013
9:00 a.m. until Noon
Crawford Town Hall, downstairs conference room.
The North Fork Valley Creative Coalition will present at 9:00am on Website Design and ESRI Mapping.
Gary Hubbell will present on Website Marketing at 10:15 a.m.
The North Fork Valley Creative Coalition will be talking about design aesthetics (the look and feel) of your brand and what you present to your audience. You will learn how to identify and focus on your targeted audience and ways that best appeal to their sensibility. There will be a brief overview of ESRI Mapping, an interactive map on the Creative Coalition's website that allows a highlight of businesses, artist studios, farms, historical sites, and more. If you have any questions about the North Fork Valley Creative Coalition, please contact Susie Kaldis, Program Director, at (310) 428-0990 or
nfvcreates@gmail.com
.
Gary Hubbell, a widely published writer and an expert on marketing and search engine optimization, will be giving a talk on website marketing as the backbone of any marketing strategy, whether it is print, radio, TV, coupons, postcards, or social media. Gary will explain how to optimize a website for maximum market penetration and how to update the site and use it as the day-to-day resource to backstop various other marketing strategies. This will be a free-form presentation with audience participation and questions encouraged. Gary Hubbell, Broker/Owner of United Country Colorado Brokers, may be contacted at (970) 988-2122 or
grandviewranch@gmail.com
.
---
2013 Write On! Anthology Competition Winners
Paonia, CO April 6, 2013
Each year the Blue Sage Center for the Arts partners up with Delta County Libraries to host a writing competition for Delta County writers and poets. The winners of the competition have their works published in the annual
Write On! Anthology
, which is published by the Blue Sage. This is the competition's 5th year, and the Blue Sage and the Delta County Libraries send a thank you and congratulations to all who participated.
All community members are invited to attend a free reading of selected winners' works on Friday, June 14 at 7:00pm. The reading will debut the 2013 edition of the
Write On! Anthology
and take place at the Blue Sage Center for the Arts. More information is available at
www.bluesage.org
, by emailing
info@bluesage.org
, by calling (970) 527-7243, or by visiting 226-228 Grand Ave., Paonia, CO 81428.
---
Heart and Soul Stories continued.....
Pass the Mic
Local Voices Round-up, March 9, 2013
Pass the Mic
is a youth storytelling and news corps program created by KVNF Radio in partnership with the North Fork Heart & Soul Project, to inspire dialogue between young people and adults about the future of the North Fork Valley and to explore the common values among residents.
North Fork Valley
youth presented six short, 5-12 minute, films: dialogues with business owners, coal executives, farmers, artists and ranchers about the North Fork Valley's future. Homestead Rancher Norm Smith, Ela Family Farms and Oxbow Mine President Jim Cooper were just a few of the community voices included in the films
For more info:
northforkvision2020@gmail.com
.
---
Those of us fortunate enough to live in the North Fork Valley welcome you to take in the experience of this place we call home.

But what exactly is The North Fork Valley?

A very simple definition would reveal that the valley includes the towns of eastern Delta County:

Paonia, Hotchkiss and Crawford – and the surrounding mesas.
The North Fork Valley is named in recognition of the importance of the North Fork of the Gunnison River, which runs northeast to west through this high valley –--

from the mountains northeast of Paonia, through Hotchkiss and the 'dobie' deserts until it meets the main body of the larger Gunnison River, between Hotchkiss and Delta.

The north fork of this mighty river is the quiet cousin of the main branch, which carved out over 2,000' of solid rock to create the stunning Black Canyon southwest of Crawford.

Once the two branches of the Gunnison River merge, it winds through the canyon lands of west central Colorado, joining the Colorado River west of Grand Junction.
But that's only the geography lesson… one that tells you nothing more than could be learned from a map or on a flight far overhead.
The real story is to be experienced in person----
Click here to read more.
Click on this
'road map'
for a PDF of the North Fork Valley. Please be patient while it loads---it is worth the wait.
Enjoy yourself in our website (a joint effort of the Paonia, Hotchkiss, and Crawford Chambers of Commerce), and, when you are here.
---