Art Galleries of the North Fork Valley
North Fork Valley Galleries
(Summer and Fall 2023 Edition)

Until this page can be updated, please see an image of the North Fork Valley Galleries rack card that is available at area Visitor Kiosks, Wineries, Lodging Establishments, Restaurants, Merchants, etc,

The North Fork Valley has many artists and numerous galleries, epecially in Paonia to view their works.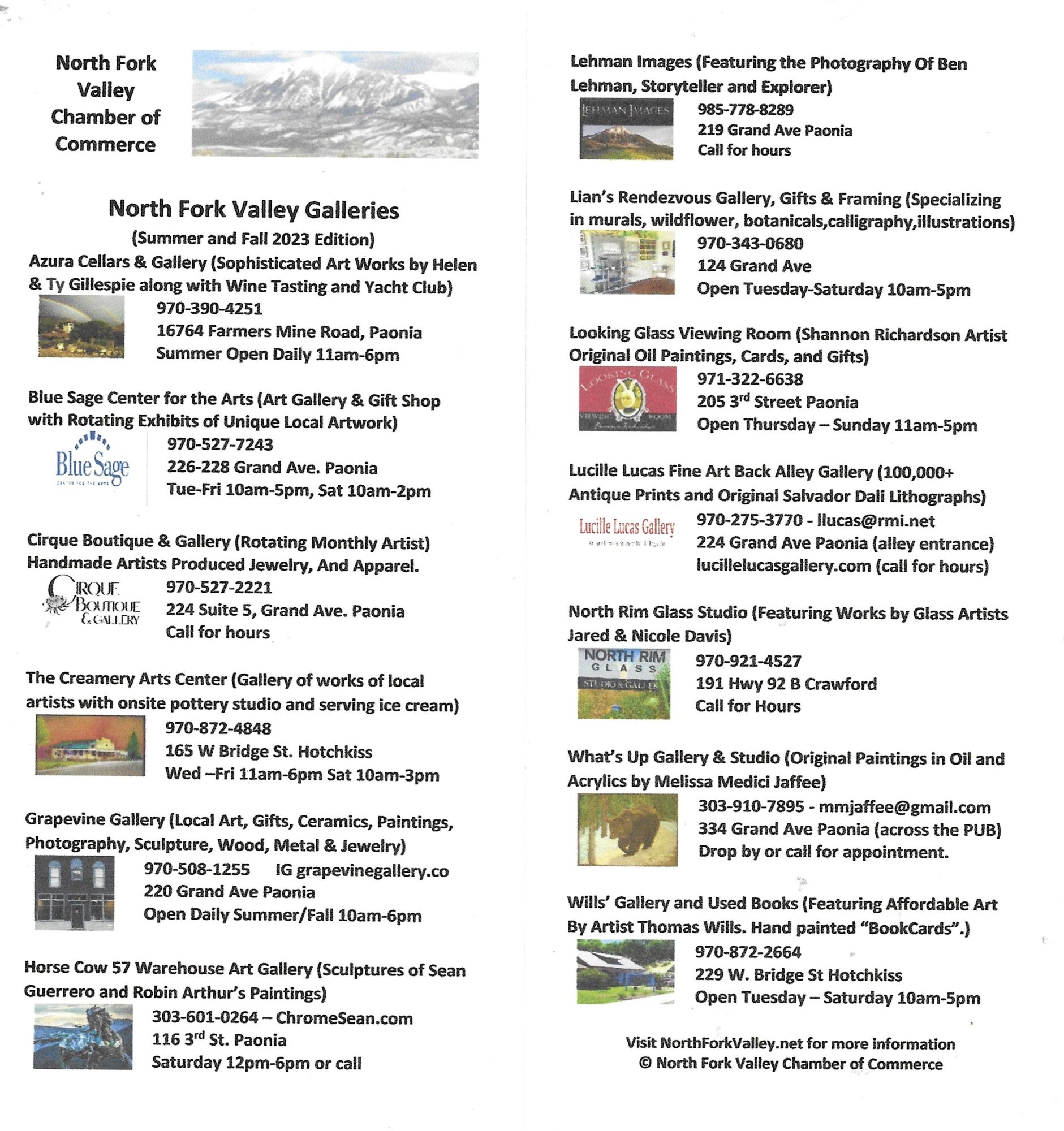 The following temporary text is from the rack card so that the Gallery information is searchable:
North Fork Valley Galleries
(Summer and Fall 2023 Edition)
Azura Cellars & Gallery (Sophisticated Art Works by Helen & Ty Gillespie along with Wine Tasting and Yacht Club)
970-390-4251
16764 Farmers Mine Road, Paonia
Summer Open Daily 11am-6pm
Blue Sage Center for the Arts (Art Gallery & Gift Shop with Rotating Exhibits of Unique Local Artwork)
970-527-7243
226-228 Grand Ave. Paonia
Tue-Fri 10am-5pm, Sat 10am-2pm
Cirque Boutique & Gallery (Rotating Monthly Artist)
Handmade Artists Produced Jewelry, And Apparel.
970-527-2221
224 Suite 5, Grand Ave. Paonia
Call for hours
The Creamery Arts Center (Gallery of works of local artists with onsite pottery studio and serving ice cream)
970-872-4848
165 W Bridge St. Hotchkiss
Wed –Fri 11am-6pm Sat 10am-3pm
Grapevine Gallery (Local Art, Gifts, Ceramics, Paintings, Photography, Sculpture, Wood, Metal & Jewelry)
970-508-1255 IG grapevinegallery.co
220 Grand Ave Paonia
Open Daily Summer/Fall 10am-6pm
Horse Cow 57 Warehouse Art Gallery (Sculptures of Sean Guerrero and Robin Arthur's Paintings)
303-601-0264 – ChromeSean.com
116 3rd St. Paonia
Saturday 12pm-6pm or call
Lehman Images (Featuring the Photography Of Ben Lehman, Storyteller and Explorer)
985-778-8289
219 Grand Ave Paonia
Call for hours
Lian's Rendezvous Gallery, Gifts & Framing (Specializing in murals, wildflower, botanicals,calligraphy,illustrations)
970-343-0680
124 Grand Ave
Open Tuesday-Saturday 10am-5pm
Looking Glass Viewing Room (Shannon Richardson Artist
Original Oil Paintings, Cards, and Gifts)
971-322-6638
205 3rd Street Paonia
Open Thursday – Sunday 11am-5pm
Lucille Lucas Fine Art Back Alley Gallery (100,000+ Antique Prints and Original Salvador Dali Lithographs)
970-275-3770 - llucas@rmi.net
224 Grand Ave Paonia (alley entrance)
lucillelucasgallery.com (call for hours)
North Rim Glass Studio (Featuring Works by Glass Artists Jared & Nicole Davis)
970-921-4527
191 Hwy 92 B Crawford
Call for Hours
What's Up Gallery & Studio (Original Paintings in Oil and Acrylics by Melissa Medici Jaffee)
303-910-7895 - mmjaffee@gmail.com
334 Grand Ave Paonia (across the PUB)
Drop by or call for appointment.
Wills' Gallery and Used Books (Featuring Affordable Art By Artist Thomas Wills. Hand painted "BookCards".)
970-872-2664
229 W. Bridge St Hotchkiss
Open Tuesday – Saturday 10am-5pm