Lodging in North Fork Valley
Finding Just the Right Accommodations

North Fork Valley Lodging Guide pdf September 2019

In the North Fork Valley, there are well over 100 rooms for rent -- and there is one that is exactly what you are looking for. Many establishments are off the main streets and highways, with a delightful variety to choose from.

In addition to basic rooms -– just right for the business or budget-minded traveler -- there are many lodging facilities focused not simply on providing a room, but rather, an experience:
Camping options for those with tents, RVs or those wanting a base camp for the big hunt;
Guest ranches catering to those seeking a real "western" experience;
Guest houses and cabins offering room to spread out in comfort and privacy;
Inns and Bed & Breakfast establishments, from historic in nature to "homey";
Farm stays in orchards and vineyards.
It is not an exaggeration to say that there is something for every taste.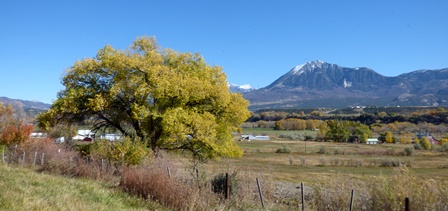 The lodging properties listed in the North Fork Valley Lodging Guide collect lodging tax from you, their guests. These funds are used by the Delta County Tourism Cabinet to market the wonderful activities and scenery and businesses in the North Fork Valley, Surface Creek Valley and Gunnison Valley. We thank you for supporting these businesses and the economy in our communities!