West Elk Byway Historical Points of Interest on the Loop, By Abbot Fay
Color denotes Feature, Town w B&B, Interpretive Exhibit, Camping, Overlook
[206m total] denotes distance from 0m or County Road starting point rounded to nearest .5m
Itinerary
Carbondale, Highway 133 and the 82 turnoff at: 0m
Carbondale:
1m Settled beneath Mount Sopris, it was begun as a stage stop between Aspen and Glenwood in 1883. With the coming of the D&RGW Railroad, it was the terminus for mule trains of 150 jacks hauling ore down the Crystal River from Lead King Basin. Later, it was junction point with the Crystal River and San Juan Railroad, from Marble. Carbondale was famous for potato production., and it was here that the internationally famed Red McClure potato was first bred by Thomas McClure. Rocky Mountain School, on an historic ranch site, was created five decades ago on a then unique work study program as a private school. Nearby Satank Bridge is listed on the National Register of Historic Places.
Historical Museum
: 1.5m Interpretive site 'placement panel' and 'Watchable Wildlife' & bathrooms. The town Jail and a historic log building now serving as a museum were moved here. Across the highway the Historic Thompson House Is restored and kept as it was at the turn of the 19th century.
Crystal River Fish Hatchery
; 3m Museum & Interpretive site tells how they spawn trout from eggs in their world class spawning facility.
Up the Crystal River
: 4m Mount Sopris dominates the views along this section. Observable across the river is the roadbed of the Crystal River and San Juan Railway, a narrow-gauge line from Marble. Ballasts of huge chunks of white marble were used to secure the route from floods, and are still visible.
Historic Thompson Homestead/ Thompson Open Space
. 6m was founded in 1881 near the confluence of Thompson Creek and the Crystal River. It is now the home of Sustainable Settings, which is dedicated to preservation of agriculture. Across the road is Pitkin County Open Space to the Crystal River
BRB: 7.5m Terminus of the Crystal Bike Trail in 2010.
Janeway Meadows
: 12m interpretive site 'On the way to Janeway" Across from the large White River National Forest sign is an interpretive site next to the Crystal River. It tells the local story in the 1880s while pointing out ruins across the river.
Avalanche Creek
: 13m Offers a short side trip and hikes along the river. A campground and another trailhead are at the terminus 2 miles up and include a fording of Bulldog Creek.
Penny Hot Springs
: 15m Station on the early stage line; the coach house is visible across the river. At the springs, hot bath houses, one for men, and one for women, were available on the west bank, and served from the 1880s until the 1950s. Chair Mountain looms impressively showing the reason for its name. Locals bathe in the primitive hot springs on the river. `
Elk Park
: 17.5m a parking area along 133 includes interpretive sites and bridge access to downtown Redstone.
Redstone
: 18m Constructed as a model mining town to answer charges of exploitive capitalism by John Osgood, president of Colorado Fuel and Iron Corporation at the beginning of the Twentieth Century,; Redstone was home to miners from nearby Coal Basin. In addition to a recreation hall and library, the town had a grand European style half-timber inn, which still dominates the town. Osgood's own "castle",
Cleveholm Manor
, 19m still stands a mile upriver from the town, and may be viewed from the highway. It was host to many famous people, including President Theodore Roosevelt and the infamous king of Belgium, Leopold. (The only crowned head ever to come to Western Colorado). Redstone is access point to the 'Clear fork site', a hunting camp of Theodore Roosevelt's. The main street of the town is a designated Historic District on the National Register.
Placita
: 22m interpretive site 'Placita'. Terminus of cattle and sheep drives over McClure Pass from the Muddy Creek and North Fork of the Gunnison ranches. The livestock were loaded on the train at that point Some of the old buildings still stand. Still visible from this point is the old precarious zigzag roadbed of old McClure Pass route. The old road alignment will be used for the West Elk Trail from Crested Butte to Carbondale, someday.
Marble Turnoff, CR 3
: 23.5m Interpretive Site 'Crystal History' at the base of McClure Pass
Side Trip
: Base of McClure's CR 3 Marble, Crystal, Schofield Pass 31 mile return, half on 4x4, high clearance road
Bogan Flats CG
: 1.3m offers hospitality to travelers & Fishermen, nearby trail leads to Lilly Lake.
Marble Cemetery:
Gravestones reflect artistic ability of the workers at the mill in Marble.
Marble
: 6m from turnoff The almost pure white Yule Marble was named for George Yule, sheriff of Gunnison County from 1880 to 1881, who first discovered it. The town is an historical site on the National Register. Pillars of the mile-long mill are still standing. Other sites include the preservation of the old high school, now a museum. The largest block of marble ever quarried in the world was brought from here to form the Tomb of the Unknown Soldier in Arlington National Cemetery. It was also marble from this quarry which was used to construct the Lincoln Memorial in Washington, D.C., and hundreds of other noted structures in the United States. Marble had a large colony of Italian craftsmen to quarry and mill the stone. Feisty Sylvia Smith, one of the first women editors in the state, ran the newspaper here, until run out of town by angry workers and managers of the quarry.
Crystal 12m (9,000 ft.; four-wheel drive)
: Site of much-photographed mill which hangs out over Crystal River. Terminus and home of noted snowshoe (ski) mail carrier Albert Johnson on his route to and from Gothic and Crested Butte, over Schofield Pass.
Devil's Punch Bowl
: 13.6m Historic death trap for wagons, and later autos (greatest one-car accident in Colorado history: 9 killed) From here we see the narrow road leading to the pass directly above.
Schofield
: 15.5m (10,000 feet) Historic ghost town.
Continuing South on 133:
McClure Pass
: 26.6m Named for potato developer Thomas McClure. Strata of coal and sediment along the road on the north side show the regular rise and fall of the land over eons. The old road joins at the gap near the top of the pass. The pass saddles between Chair Mountain and Huntsman's Ridge a popular hiking area. McClure Campground overlooks beaver pond flats and out to the Ragged Valley.
Southern Closure Gate
: 32m Interpretive site ' Local Geology' and 'placement panel' shows the convoluted geology that occurs on these slumping hillsides under the Ragged Peaks. The same phenomenon leads to rockslides which often close the highway below.
Ute Trails
: Two old trails here between the Muddy Creek turnoff at CR 265 and CR 12 to Crested Butte. Both came over Kebler Pass and one went over Divide Creek to Plateau Valley; the other over McClure to Crystal Valley.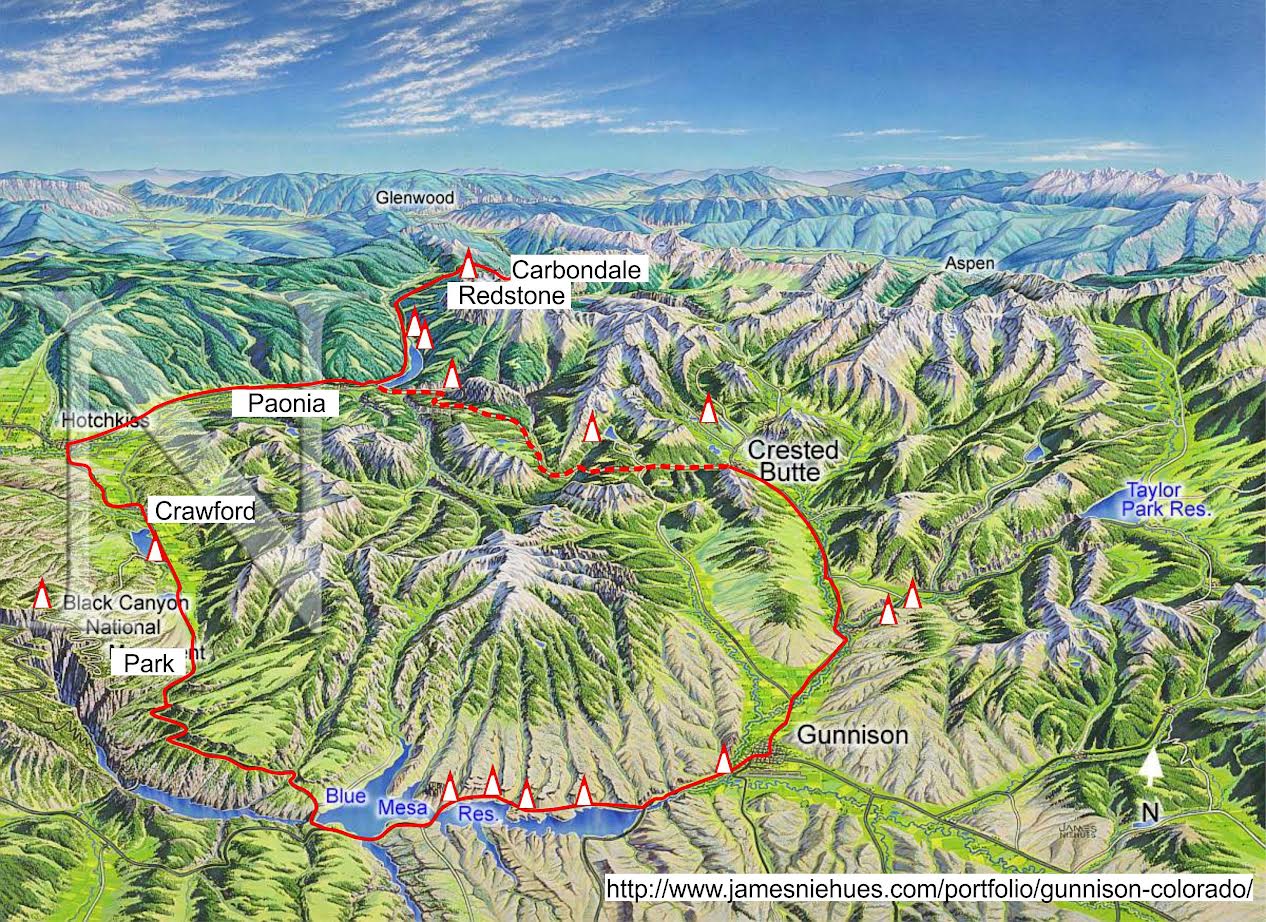 Paonia Reservoir
: 40m Is a state park hosting Hawsapple and Spruce Campgrounds. The narrow, winding road bound by the reservoir is driven cautiously by locals due to falling rock and slumping road bed.
Junction of 133 & CR 12 Kebler Pass Road: 44.5m Interpretive Site 'Mining on the North Fork' Historic ranches; Ragged Mountain School, so isolated that they had classes only from April through October. McClure Pass Slide: Second greatest mountain slide in history, next to Mt. St. Helens, Slide came down from Ragged Mountains in 1985, filling canyon 50 feet and more (highway now 50 feet higher than before). Some of the great fissures and still-growing leaning trees may still be seen.
Somerset: 50.5m Old coal--mining town named for city of coal mining in England. At one time Somerset was the only known town in the nation which could be reached only by railroad, or, in some winters, by sleigh taken up the frozen North Fork of the Gunnison. Had no wagon route connected to any other town. A large number of the miners were Slovenian and Italian, in the same migration pattern as that from Crested Butte. Many of the old mining structures are still visible. Mount Lamborn is the prominent sharks tooth shaped peak visible to the west.
Side Trip to Bowie 52m and back to Highway 133
: Old route of Highway 133 goes through old mining town of Bowie. Here, the Superintendent's fine old house still stands, as well as some of the other major structures. High above town is the visible mine entrance. The mining machinery in this operation was donated by the current owner, Coors, to the State Historical Society, and is on permanent display in the Colorado State Museum in Denver.
Hubbard Creek
: Route of the Escalante-Dominquez expedition of 1776, first systematic exploration of what is now Colorado The Escalante-Dominquez Trail follows Highway 133 to Hotchkiss.
From Highway 133, Smokestacks of power house in Bowie and the mine on the side of the mountain may be viewed.
Terror Creek
: Crossing place of the Escalante-Dominquez Trail in 1776; spot of crossing is almost the same as D&RGW Railroad trestle across the river. Terror Creek was originally named Holy Terror Creek, and, before water diversion far upstream, was a hazard of great magnitude on the early wagon road to Bowie.
Paonia
: 59m Escalante-Dominquez huge mural with historical information on the Trail in downtown region, and another depicting the coal mining history and the famous orchards. Miner's Memorial Statue, in city park, has names of miners killed throughout the history of the region. Bell-tower museum is former Bowie School house, preserved. Old Curtis Hardware Building, (now Paonia Mail) is on the National Register of Historic Places. Named for the Latin for Peony, (and the only place named Paonia in the world) original stock of those flowers still grown in front of Miner's Memorial Statue.
Paonia to Hotchkiss
: 67m Interpretive site Marker designating Escalante-Dominquez Trail. Gold Medal Orchards, so designated because they won the top prizes in all categories in the World Columbian Exposition of 1893 at Chicago.
Hotchkiss:
68m One of the earliest settlements in the 1881 land rush following the Ute removal, this town was founded by Lake City mining man, Enos C. Hotchkiss as a farm center and orchard production thrived. Sites on the National Register include the old hotel and the bridge south of the town. The historical museum there has a number of very unusual artifacts.
North Fork of the Gunnison
: 69m Interpretive site on the west side of the river 'River Ecology' and 'placement panel'
Left onto Colorado Highway 92: Mileage returns to 0m as we head East on 92
Hotchkiss 0m to Crawford:
Side route: Rehoboth Settlement in Smith Fork Canyon, a religious group which disdains use of modern equipment, schools, etc. Uses horse drawn equipment to run extensive ranch and farm. Generally Nineteenth Century life style; many crafts; welcomes visitors.
Crawford
: 11m interpretive site at the old school house. A real, unreconstructed cattle town, still with wooden sidewalks, and church yard cemetery in center of town. This was the center of the Diamond Joe Ranching operation which settled over a hundred thousand head of longhorns in the region to supply mining camps with beef; they wiped out the stirrup-high grasslands leaving the barren "adobes" on the road between Crawford and Paonia. It, in turn, was destroyed in the terrible winter blizzards of 1884. Now its better known for Joe Cocker a world renowned singer and actor that has made Crawford his community.
Crawford Reservoir
: has camping at 12.5m on a peninsula at the northeast end of the lake.
Crawford to the Black Canyon of the Gunnison National Monument.
Black Canyon Road
: (planned site) 14.3m meanders a maze for 22 miles from Crawford Reservoir across Poison Spring Mesa and Dead Horse Mesa, along Black Canyon overlooks, to Fruitland Mesa, meeting with 92 at Crystal Creek 23m on 92. adding 11 miles, local map helpful
North Rim Campground
: overlooks the Black Canyon off the Black Canyon Road. Fruitland Mesa: Site of substantial colony of Dutch immigrants who hoped to thrive on orchards after laborious work on Gould reservoir and canal. Late season harvest caused them to lose out on markets supplied by Hotchkiss and Paonia, so they resorted to other ranching and farming. Site of the Dutch Reformed church, no longer standing.
Poison Springs
: So-named because ranchers thought water had killed stock which had been frozen to death in 1884. Little Mexico was a colony of Mexican immigrants who hoped to survive nearby, but supply of water was inadequate, and all returned to Mexico or other places in U.S. Black Canyon Visitor Center: Interesting historical material, and nearby is barren area which authorities believe is a remaining scar left when Ute's burned the prairie lands before departure.
Gould Reservoir
: 18.5m See above. Hartman Trail: Near Maher, first cattle crossing area from Gunnison country; early orchardists used this route, making rings of bonfires to keep their saplings from freezing.
Hermit's Rest
: view of the Black Canyon and historical plaque overlooking Morrow Point Lake and Dam. 413 feet beneath the lake at this point was the route of John Williams Gunnison, who surveyed for a transcontinental rail route in 1853. He left the canyon with the realization that no railroad could be built. However, narrow-gauge engineering enabled the railroad to go this far before pulling out at Cimarron. (see side trip to Cimarron below.)
Morrow Point Reservoir
: 32m far below is revealed in inspiring glimpses.
Curecanti Needle
: 45m is best seen from the Pioneer Outlook where a gentle stretch of the leg is rewarded with breathtaking views below.
Blue Mesa Dam
: 50m Interpretive site is a short walk north of the dam.
Lake Fork Campground
: 50.6m drop down to the lake to enjoy views north to Soap Mesa across the lake.
Side trip to Cimarron:
US 50 west 38m return Over Blue Mesa to Cimarron, historic railhead where railroad pulled out of the Black Canyon to cross Cerro Summit. Important shipping point fro livestock; old leading yards have been reconstructed here at visitor center. Continue one mile into the canyon, where D&RGW narrow gauge locomotive which used to make this run is preserved on original trestle which crossed at this point, beneath spectacular and unique Morrow Point Dam, 469 feet high concrete with top spillways and underground self guided powerhouse tour.
Junction of Colorado Highway 92 Blue Lake and U.S. Highway 50: 50.8m from Hotchkiss reset to 0m
Dam to Gunnison
: 28m follows the Blue Mesa Reservoir for 17 miles before entering a broad wetland.
Junction of Colorado Highway 92 and U.S. Highway 50 to Gunnison: This was one of the earliest transcontinental highway routes, this portion being known in the 1920s as the Rainbow Route, as it went through world-famous fishing area now inundated by Blue Mesa Lake. Lake Fork Bridge: Down from Lake City, 36 miles to south, it was at this point that notorious guide Alfred Packer became confused and went up Lake Fork to Lake San Cristobal, where he was later found guilty of murdering and cannibalizing his party of five other men. Sapinero: named after Ute Chief Ouray's brother-in-law, the site of the original town is now beneath the lake. Elk Creek Center: Currecanti Archeological District, listed on National Register. Historical displays in visitor center. Training site for 1966 U.S. Olympic rowing team. Iola Basin: Submerged site of Iola, stop on railroad for loading of ore and livestock, from mining towns of Vulcan and Spencer (now ghost towns, about 13 miles south) and ranch town of Powderhorn. Vulcan was once captured by another mining town, Baldwin (north of Gunnison) and the inhabitants marched to the Iola station and put aboard the train by force, over a mining union dispute. These sites, and Lake City, may be reached from here on Highway 195
Gunnison
: 26m At the edge of the Ute Indian Reservation established by the Brunot Treaty to cover the entire western slope west of this point, Gunnison in the 1870s served as a supply point for the reservation and a route for miners going to the exempted mining towns of the San Juan Mountains. It had a wild reputation. Ellen Jack, self-styled "Queen of the Rockies" ran a large hotel and restaurant here for miners who came from the "gold circle" of mines in all directions; she later became the first known woman miner in Colorado, discovering her lode at Crystal (see above). The famous sheriff, C. W. "Doc" Shores, was sheriff of Gunnison County. The first national forest ranger, William Kreutzer, became head of Gunnison National Forest here. W Mountain, overlooking the town, was the site of what was probably the first inter-town downhill ski races, in 1885. The La Veta Hotel, now cut to one story, was the biggest hostelry, and most luxurious, west of the Divide. A monument to John Gunnison is opposite the city hall. The establishment of the first college in Western Colorado, Colorado State Normal School, in 1911,is now Western State College. The W, the largest manmade letter in the Western Hemisphere and second in the world, was built by students in 1923. There is a large museum of historic buildings and artifacts here.
Highway 135 Gunnison 0m to Crested Butte
: 28m
Almont Triangle:
9m Interpretive site 'Almont Triangle' & 'placement panel' and forest access.
Almont:
10m Famous fishing area and resort center. Old dance hall still visible. Wendell Willkie gave a 1940 presidential campaign speech here.
Side trip up Taylor River to historic Tin Cup.
CR 742 61m return
Campgrounds: One Mile, North Bank, Rosey Lane, Lodgepole, Cold Spring, Lotus Creek and Lake View Campgrounds are along CR742
Jack's Cabin: Jack Howe's half-way house on wagon road from Gunnison to Crested Butte. Post office established in 1879. Later, a water stop on the narrow-gauge railroad to Crested Butte.
Cement Creek
: Site of Pioneer Ski Area, 1939-1952, first chair lift in Colorado.
Crested Butte (National Historic District)
: 17.5m Founded in 1878 to supply hard rock mining; incorporated 1880. Coal, however became the most important mining product. The 1884 explosion in the Jokerville mine may have been the most disastrous in Colorado history, killing 60 men. CF&I's "Big Mine" exported Anthracite on the D&RG narrow Gauge RR. The first group of miners were Scots, Irish, Welsh, Germans and "Cousin Jacks," Cornish miners. At the turn of the century, the dominant immigrant groups were Slovenes, Croats, Slavs from Austria-Hungary, and Italians, mostly from the Calabria region. There was also a small Greek colony. Many of these later cultures stayed intact through their independent lodges, which gave language lessons of the home country after regular school hours, and social events within each ethnic group. Among the notable buildings are the Rock School, built in 1883, now the town library, the Old Town Hall and the railway station. Designated a National Historic District The town's municipal code engages Victorian like, design architecture, even among newly built structures, making it a museum of architectural design of the late Nineteenth Century. The largest elk rack ever taken, in 1899, according to official records, was the trophy of one Joe Plute, and is on display at the local Visitors Center. Walt Disney's 'Snowball Express' was filmed here in the 1960's because of the unspoiled appearance of the old town. Crested Butte along with Gothic and Schofield (see above) were destinations of ex-president Grant in the 1880s for official visits.
CB Visitors Center
: Interpretive site 'placement panel' commands a central view of the Crested Butte valley.
Side-trip to Gothic: 8m 16 return CR 31 An 1879 silver camp. In 1928, Prof. John C. Johnson of Western State College established the Rocky Mountain Biological Institute here, and it is summer home to some of the nation's most famous biologists, including Paul Erlich, author of The Population Bomb.
CR 12 Crested Butte0m To Crystal Springs and 133 30.5m
Irwin-Ruby:
7m Silver camps, 1879. At one time there were 529 homes and business houses at this site near Lake Irwin, and three churches, but now only foundations can be seen. The Irwin cemetery atop Kebler Pass has interesting tombstones and inscriptions.
Irwin Lake CG: 8.5m
Horsethief Park:
11.5m Cattle Rustler hideout in the latter party of the Nineteenth Century.
Lost Lake CG
: 16m L then 2m A camp ground provides overnight enjoyment of this high mountain riparian environment. Lost lake is a 1m hike above the Lost Lake Slough
Ericksons Springs CG
: 24.5m The bike trail to Carbondale will someday go through here to join up with 133 above Paonia Reservoir
Junction of 133 & CR 12 Kebler Pass Road
: 30.5m Interpretive Site 'Mining on the North Fork'
The road over Kebler Pass completes the West Elk Loop when it joins Highway 133,. 206m total